The bumper sticker below is officially annoying.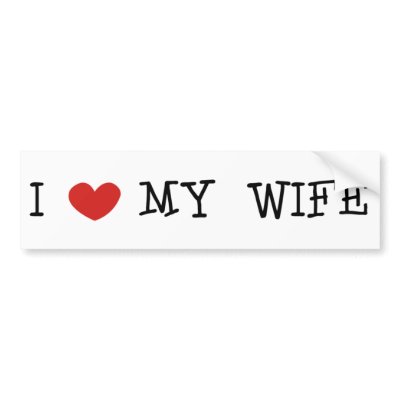 Someone at my son's school has this on the back of his Toyota Rav 4 and without fail, I always end up behind him in car line. I mean seriously, do you think this man put this on his car or is it safe to say his wife bought it and "surprised" him with it and one day he walks to his car and it's there?

"Surprise, honey!"

Even if he was out somewhere and found this bumper sticker and just had to have it, I always end up wondering about this man and the wife that he loves so much.

Now, I'm not hating on this man, or his wife. In fact, last year Mr. Jonesie ordered a personalized license plate with my name and the year we met on the front of his car. Needless to say, the plate is now in the garage.

This bumper sticker is officially annoying though. It's the gag me with a spoon type of annoying. Kind of like when people feel the need to engage in P.D.A. in front of others.

One word-- annoying!