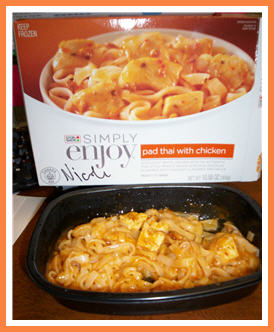 I'm home a little earlier during the summer months and that means that I'm more or less responsible for making dinner. I used to cook up a storm in my younger days, mostly Trinidadian food, but for one reason or another, I just don't have the interest or the time to make a real meal often.
Although I'm home fairly early and my days are not that stressful right now, I just don't have the energy to cook. So, I've been relying on frozen meals. I know, I know, that's not the healthiest choice that I could make but in my little part of the universe, I think a frozen pasta and vegetable meal far outbeats fast food!
To that end, I want to share with you that I absolutely love a brand that is sold at Giant Grocery Stores in the DC area (I'm not sure whether it's sold in other stores, but this is where we get it) and it's called "Simply Enjoy". The brand name encapsulates the experience. Their offerings are elegant, simple and tasty. I have had mushroom risotto, rice veggie scallops medley and a vegetable offering that were simply delightful.
I don't know how much sodium, fat or calories are in these meals, but
I do know that they taste good (you might be able to pass them off as your own), they're easy and it's quick. Next time you go to the grocery look for them and buy an offering or two and let me know what you think.
P.S. I am in love with Golden Oreo cookies - have you tried them as yet? I could eat an entire package in one sitting.
BTW, This is not a sponsored or paid review; nor did I receive any of the items for free or at the behest of a marketer or company. Just a tip from one mama to another.