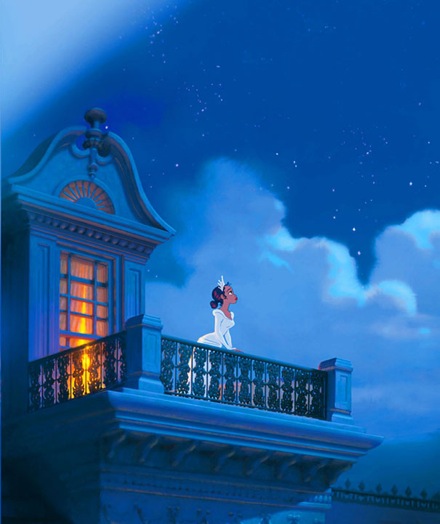 I just finished watching The Princess and the Frog with my little princess. I know I'm four months late, but I MUST post about my feelings about the movie. (BTW, I was not asked to do a review nor was I paid in any way nor received anything free. These are my thoughts and recommendations). GET YOURSELF A COPY OF THIS DVD; IN FACT, BUY TWO!!!!

At Blogalicious we got a sneak peek of the movie and I was super psyched to see it. However, I was unavailable the movie's release weekend, so hubby took princess to see it. I figured it would be a great daddy-daughter outing anyway, so I didn't sweat it. Then once the movie was scheduled for dvd release, princess asked for it. Hubby promised to get it and so did my mom in Canada. So, unbeknownst to me, hubby purchased it on Tuesday, after my mom did the same and shipped it to the States for her granddaughter.

Once I discovered that we would potentially have 2 copies of the movie, I decided that we should simply return the one bought here. As you can imagine though, once princess got wind of the purchase she had to see it immediately; as if her life depended on it. Having not seen it, I figured that copy number 2 would be a great birthday present for someone. However, after seeing it tonight, I've changed my mind and we will keep both copies - one for use and the other as a back-up and here's why:

Inspirational movie

The movie's message is so grounded and inspirational. Dream big and work hard! I loved that Tiana's dreams were centered around making something of herself and they weren't simply to get married to a prince and live happily ever after, as so many fairy tales end. I was also impressed that their challenges weren't simply solved by the prince. She was as involved in solving their problems as anyone else. Also, the music was so culturally rich and the message was so powerful that I appreciate and welcome my princess listening everyday - "I'm almost there" and "Dig a little deeper" are mantras that I hope she will live by.

Inspiring me to dream

For those of you who attended Blogalicious, you may remember one of our keynote speakers, Karen Walrond's (@chookooloonks) presentation during the Disney sponsored lunch. Her talk was entitled "The Beauty of Different" and it tied perfectly to the movie's theme. Karen gave us a glimpse into her life and walked us through how she ended up pursuing her passion and her dream of being an author/photographer/business woman. You may also remember that my emotions got the better of me during my thank you to Karen because her courage and strength to pursue her dream has touched me deeply. As I watched the movie tonight, Karen's words of encouragement echoed in the back of my mind because I actually saw through Tiana how perseverant, courageous and determined you have to be to live your dream and be truly happy. I am emotional as I write because the combination of messages is driving me to figure out how I can make my dream come true. Considering that I am struggling with this issue right now, you can only imagine how confused I am. I will figure it out!

Buying the black movie

I read somewhere that the movie did not meet Disney's revenue target and may be considered as an under-performing film. We cannot affect box office sales, but we've got to get out there and buy the dvd. It's a great film and it's the first black princess and I think it's imperative that we support this effort to show the buying power of people of color. It hurts my heart that despite the great recession, at the end of the day, Disney (and maybe others) may attribute lower revenues than expected to the fact that the princess was of color. I feel like we've got to show them (whomever that are) that we are a force in the marketplace and that they should continue to market product that specifically appeal to people of color. Please don't spend your $14.99 on Hannah Montana or the Backyardigans before spending it on The Princess and Frog!