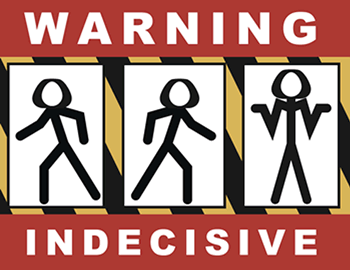 Yesterday, I received an invitation to apply for an important job. Although it's just an invitation to apply, and not an offer itself, it's a pretty big deal that my name was thrown in the pot of possible candidates. The position could be pretty influential in terms of doing good for the community and the city and it could be a great career move for me as well. So, why am I not excited? I shared with hubby and he was very pleased and excited by the opportunity, but I'm pretty torn.

First, I'm torn because I don't feel the same way as hubby and I don't think I'm up for the ensuing argument. He thinks it presents a great opportunity while I don't. He wants to see me succeed but I don't think he's entertaining anything less the traditional route. Second, my life's plan was to transition out of the working-for-someone-else workforce and into the owning-my-own-business workforce by the end of the year, so I wasn't even thinking about exploring new opportunities. Third, as I encounter more and more issues with princess and we embark on her school career, I feel like more parental involvement is needed, not less, and I think this position will be all-consuming. Last, with all the many things going on in my life, I feel like transitioning to a new job is NOT what I should be doing right now.
Yet, it is a great opportunity and I believe that everything happens for a reason and I don't want to regret passing on the opportunity. I don't know what to do. I feel pretty conflicted and I wish my life coach would help me figure it out - that is, if I had one!